Tandberg LTO Media

What could be more important than protecting your data?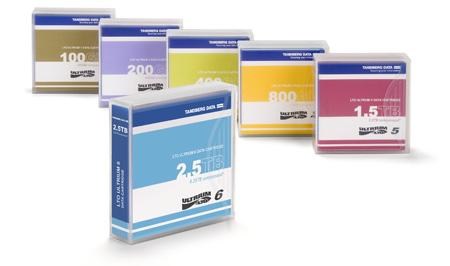 Tandberg LTO Media
Tandberg LTO Media

Tandberg LTO-3 Data Cartridge, un-labeled with case (1pc, min-order qty 5pcs)
#433216
Our Price: $29.00

Tandberg LTO-4 Data Cartridge, 800GB/1.6TB, un-labeled with case (1pc, min-order qty 5pcs)
#433781
Our Price: $27.00

Tandberg LTO-5 Data Cartridge, 1.5/3.0TB, un-labeled with case (1pc, min-order qty 5pcs)
#433955
Our Price: $26.00

Tandberg LTO-6 Data Cartridge, 2.5/6.25TB, un-labeled with case (1pc, min-order qty 5pcs)
#434021
Our Price: $36.00
Click here to jump to more pricing!
Overview:

Tandberg Data has been renowned for its high-quality products for many years and Tandberg media is subject to stringent quality controls and measurement in order to ensure quality and reliability. LTO (Ultrium™), the most popular tape technology, is a high-performance tape technology offering versatility, reliability and performance.
Tandberg Data Tape Media and storage products are the result of many years of joint development and continuous enhancements. This helps to meet the increasing capacity, performance and cost-efficiency demands. The industry-leading quality and reliability of our products is acknowledged by leading international OEM customers. Our partners are dependent on optimum data security for their mission critical data storage needs. Using Tandberg Data branded media with Tandberg Data branded storage products assures industry-leading performance and data security. Tandberg Data media is always the right choice because it is designed to work with our products. To achieve and maintain the maximum benefit of your Tandberg Data branded storage product, we recommend to use Tandberg Data media cartridges with them.
Reliability
Use Tandberg Data media to assure Tandberg Data quality. Tandberg Data cartridges allow users to perform 200 complete backups and archive data for more than 30 years.
Specifications:
Specifications:
LTO Media Compatibility
TAPE FORMAT
LTO-3
LTO-4
LTO-5
LTO-6
LTO-7
LTO-2
R/W
R
LTO-3
R/W
R/W
R
LTO-4
R/W
R/W
R
LTO-5
R/W
R/W
R
LTO-6
R/W
R/W
LTO-7
R/W
Basic Specifications
Storage Capacity
400GB / 800GB*
800GB / 1600GB*
1.5TB / 3.0TB*
2.5TB / 6.25TB*
6TB / 15TB*
Transfer Rate
Up to 120 MB/s*
Up to 240 MB/s*
Up to 280 MB/s*
Up to 400MB/s*
Up to 750MB/s*
Number of Tracks
704
896
1280
2176
3584
Cartridge Memory
4KB
8KB
8KB
16KB
16KB
HH Drive Data Buffer
128MB
128MB
256MB
512MB
1024MB
Magnetic Properties
Magnetic Particle
Super Finavinx (Metal)
Super Finavinx (Metal)
Super Finavinx (Metal)
Super Finavinx (Metal)
Barium Ferrite
Linear Recording Density
9.64kbpmm
12.72kbpmm
14.68kbpmm
15.14kbpmm
19.09kbpmm
Dimensions
Cartridge Dimensions
102.0 × 105.4 × 21.5mm
102.0 × 105.4 × 21.5mm
102.0 × 105.4 × 21.5mm
102.0 × 105.4 × 21.5mm
102.0 × 105.4 × 21.5mm
Tape Width
12.65mm
12.65mm
12.65mm
12.65mm
12.65mm
Tape Thickness
8µm
6.6µm
6.4µm
6.4µm
5.6µm
Tape Length
680m
820m
846m
846m
960m
Operating Environment
Temperature
10° - 45°C
10° - 45°C
10° - 45°C
10° - 45°C
10° - 45°C
Humidity
10 - 80%**
10 - 80%**
10 - 80%**
10 - 80%**
10 - 80%**
Maximum Wet Bulb Temp.
26°C
26°C
26°C
26°C
26°C
Storage Environment
Temperature (Short-term)
16° - 32°C
16° - 35°C
16° - 35°C
16° - 35°C
16° - 35°C
Temperature (Archive)
16° - 32°C
16° - 25°C
16° - 25°C
16° - 25°C
16° - 25°C
Humidity (Short-term)
20 - 80%**
20 - 80%**
20 - 80%**
20 - 80%**
20 - 80%**
Humidity (Archive)
20 - 80%**
20 - 50%**
20 - 50%**
20 - 50%**
20 - 50%**
Media Life
Durability (Nominal)
1,000,000 passes
Archival-Life
30 years
Warranty
Limited lifetime warranty (typically 30 years)
* Assumes a 2:1 compression ratio
Benefits:
High Capacity
Up to 15TB* of data on a single cartridge
Leading Performance
Up to 2.7 TB/hr* reducing backup and restore times
Reliability
Stringent testing ensures maximum reliability
Flexibility
A choice of media products and services including barcode labeling and library packs
Lowest Storage Cost
LTO media delivers the lowest storage cost/GB of any media
Archiving
LTO media archival life of 30 years
Warranty
Limited lifetime warranty (typically 30 years)
* Assumes compression ratio of 2:1 on LTO-3/4/5 & 2.5:1 on LTO-6/7
Tandberg LTO Media
Tandberg LTO Media

Tandberg LTO-3 Data Cartridge, un-labeled with case (1pc, min-order qty 5pcs)
#433216
Our Price: $29.00

Tandberg LTO-4 Data Cartridge, 800GB/1.6TB, un-labeled with case (1pc, min-order qty 5pcs)
#433781
Our Price: $27.00

Tandberg LTO-5 Data Cartridge, 1.5/3.0TB, un-labeled with case (1pc, min-order qty 5pcs)
#433955
Our Price: $26.00

Tandberg LTO-6 Data Cartridge, 2.5/6.25TB, un-labeled with case (1pc, min-order qty 5pcs)
#434021
Our Price: $36.00

Tandberg LTO Universal Cleaning Cartridge, un-labeled with case (1pc, min-order qty 5pcs)
#432631
Our Price: $39.00

LTO-4 Barcode labels (95x DC and 5x CC) data range 00101L4 to 00195L4
#1018566
Our Price: $85.00

LTO-5 Barcode labels (95x DC and 5x CC) data range 00101L5 to 00195L5
#1019641
Our Price: $85.00

LTO-6 Barcode labels (95x DC and 5x CC) data range 00101L6 to 00195L6
#1020837
Our Price: $85.00